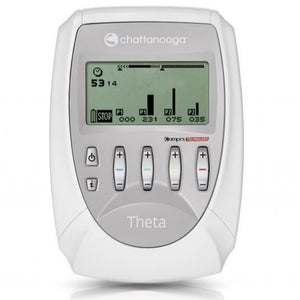 Chattanooga
Theta
Regular price
£1,050.00
Sale price
£1,306.80
Unit price
per
Tax included.
Shipping
calculated at checkout.
For clinical use only
THETA is a 4 channel stimulators developed to treat both standard (Pain, NMES) and specific protocols in rehabilitation, especially when triggered or co-contractions are requested. Neurology (Spasticity, Hemiplegic foot, Agonist-Antagonist) or specific pathologies like Post ACL Ligamentoplasty are protocols provided by the unit.
Programmes
4 standard + 4 Full programmes categories:
Rehabilitation I&II
Pain Relief I&II
Vascular
Neurologic Rehabilitation
Conditioning I&II
Full programme configuration
MUSCLE INTELLIGENCE TECHNOLOGY
4 functions on all 4 channels: Mi- Scan, Mi-Tens, Mi-Range, Mi-Action (Active session with a voluntary contraction detected by the device to start the stimulation). 2 Mi-Cables included.
2+2
Choose one programme for channel 1 and 2, and then select another programme from the 2+2 programme list for channel 3 and 4. This allows treatment of two different body parts, or two patients simultaneously, or combines NMES and TENS as one treatment.
TRIGGER FUNCTION
Start the stimulation on demand by pressing a trigger button when needed (Hemiplegic foot, spasticity…)
SKIP
Manage the session time and move directly to the next phase (recovery) when needed.
MOTOR POINT PEN
This very useful tool in combination with the dedicated programme helps to ensure the optimal electrode placement.
PROGRAMMABILITY
Creates and personalizes programmes in order to customize the patient-specific parameters.
DETAILED PRACTICAL GUIDE
Guidelines and treatment recommendations, as well as technical parameters for all programmes included in the stimulator, are provided. On the fold out cover there are illustrations of the suggested electrode placements
AUTONOMY AND SPEED RECHARGE
Daily use autonomy and with the charger included in the kit, a full cycle of recharging will take a maximum of 2.5 hours.
WARRANTY
The warranty is for 3 years from the date of purchase.
WAVE FORM
Symmetrical biphasic 100% compensated
---