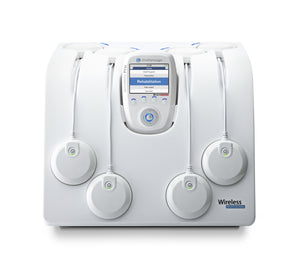 Chattanooga
WIRELESS PROFESSIONAL 4 CHANNEL
Regular price
£1,382.00
£0.00
Unit price
per
Tax included.
Shipping
calculated at checkout.
The daily freedom for patients and professionals WIRELESS PROFESSIONAL 4CH FULL is a 4 channels stimulator developed to manage the main indications of Electrotherapy: Standard (TENS/NMES) and Full (Neurology, ACL) with Wireless freedom benefits.
No cables and Trigger function will allow managing new kinds of sessions where voluntary contractions are required or when PT wants to control stimulation manually.
Delivered with 2 remotes and smart docking station to manage several sessions at the same time (Multi-Sessions). Please note this product is available in select international markets; it is not available in the U.S. Contact us for more details.
Programmes
4 standard + 4 Full programmes categories:
Rehabilitation I&II
Pain Relief I&II
Vascular Neurologic Rehabilitation Conditioning I&II
Full programme configuration – 4CH – Multi-Sessions.
WIRELESS TECHNOLOGY
Remove constraints for you and your patient. Gives your patient a total freedom of movement facilitating patient manipulations and allowing you to combine active exercise with electro stimulation for a better result.
MULTI-SESSIONS
The device is delivered with 4 modules, 2 remotes and a smart docking station allowing the user to synchronize modules and remotes to manage independently several sessions at the same time. Additional remotes/modules are optional.
TRIGGER FUNCTION
Start the stimulation on demand by pressing a trigger button when needed (Hemiplegic foot, spasticity…)
MUSCLE INTELLIGENCE TECHNOLOGY
4 functions Mi-Scan, Mi-Tens, Mi-Range and Mi-Action are available on each module (4 modules delivered).
+ TENS OPTION
Select one programme and add TENS on other channels. This allows treatment of two different body parts, two patients simultaneously or combines TENS and NMES when this kind of stimulation is required. SKIP Manage the session time and move directly to the next phase (recovery) when needed.
MOTOR POINT PEN
This very useful tool in combination with the dedicated programme helps to ensure the optimal electrode placement.
AUTONOMY AND SPEED RECHARGE
Daily use autonomy and with the charger included in the kit, a full cycle of recharging will take a maximum of 1.5 hours.
KNOWLEDGE INSIDE
Electrode placements, programme parameters and programme explanation directly available in the remote control.
SOFTWARE
Create your patient and history list, create customized stimulation programmes.
WARRANTY
The warranty is for 3 years from the date of purchase.
WAVE FORM
Symmetrical biphasic 100% compensated
Indications:
The physiotherapy unit is indicated in the treatment of most musculoskeletal injuries and diseases as well as in postoperative treatment after joint surgeries and in the treatment of several pain indications. 
Examples:
As an NMES device, indications are for the following conditions:
Retarding or preventing disuse atrophy
Maintaining or increasing range of motion
Re-educating muscles
Relaxation of muscle spasms
Increasing local blood circulation
As a TENS device, indications are for the following conditions:
Symptomatic relief and management of chronic, intractable pain
Adjunctive treatment for post-surgical and post-trauma acute pain
Relief of pain associated with arthritis.
---